Google Products + iOS 14 Update
The latest iOS 14 update mainly pertains to apps, which aren't a significant portion of Google Advertising traffic, so the impact to paid search tracking has not been significant.
Google Search app: No change! Google Ad Settings remains the primary place for users to control their ad experience across Google properties and the web.
YouTube app: For logged-out iOS users on the YouTube app (where the Limit Ad Tracking (LAT) feature was removed with iOS 14), the "Allow Apps to Ask to Track" feature can be used to control ads personalization. We are not expecting any significant impact from this.
More excitingly, Google has already started using modeled conversions to mitigate future conversion loss in a looming cookieless world. No action is required for advertisers, but conversion tracking and enhanced conversions are highly recommended.
More details about the iOS 14 update on the Google Blog & modeled conversions on Think with Google.
Google Keyword Match Type Update: Goodbye, Broad Match Modifier
In February of this year, Google announced a change to both the type of keyword match types that will be available to advertisers moving forward as well as how these match types will perform. Though this isn't the first announcement of its kind regarding changes to keyword match type behavior, the last one occurred in 2019.
With this update, both phrase and broad match modifier (BMM) will have the same matching behavior. The phrase match type will be able to match to more search queries in adopting BMM behaviors, while the broad match modifier option will no longer be supported beginning in July of 2021. BMM keywords can no longer be created following July 2021 but existing ones will continue to serve using the new behavior.
Since phrase match is taking on the matching behavior of broad match modifier, it will consider word order when it is relevant to the meaning of the search. Below is an example from Google of keyword matching behavior both before and after this change.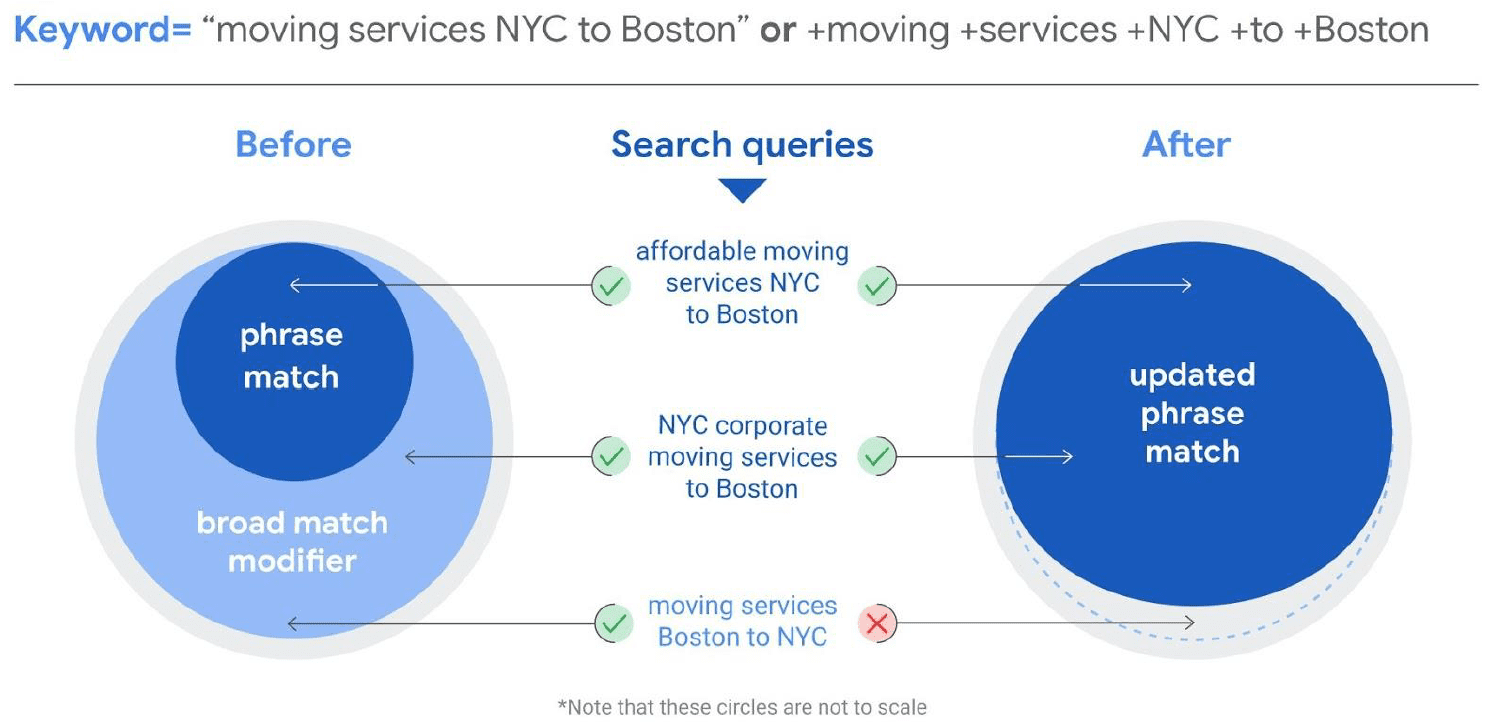 To read more about this change as well as review a list of FAQs put together by Google, please visit this support article which was used as a source of reference for this newsletter segment.
Google Adds Black-Owned Business Label To Shopping Product Results
Black-owned businesses can now show a special label on their listing results that appear within Google Shopping & Search that reads "Identifies as Black-Owned." This is currently available to merchants in the U.S. and can be set up through the Google Merchant Center settings. Read more about this addition here.
Google's Grow My Store Tool
Check out Google's Grow My Store resource if you're looking for helpful tips on how to improve a site based on best in class customer experience.
Other Relevant Resources, Tools, & Announcements