The Evolution of "Brand" in the Digital Age with CEO of JAM Paper, Andrew Jacobs
> We are super excited to be able to give our attendees a sneak-peak at what this year's ROI Revolution Summit 2018 has to offer! Our lineup includes a number of savvy industry veterans and their expert insights are sure to provide you with answers to the questions that you — as a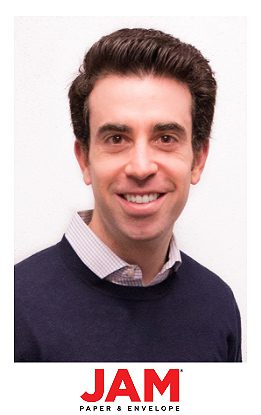 retail, brand, or ecommerce executive — likely struggle with on a daily basis.
Andrew Jacobs began his career at an investment bank in New York City which, he jokes, is how he learned he didn't enjoy investment banking. He saw a need for his family's JAM Paper brick & mortar stores to have a website, so he left the banking world and joined the family company with that in mind. 13 years later and Andrew is now CEO at JAM Paper, where he has helped them develop a brand-centric business model across a variety of marketplaces. In his spare time, when he's briefly able to get away from work, Andrew enjoys spending quality time with his family.
"It's not about creative branding, it's about strategic branding."
We recently had the pleasure of sitting down with Andrew to discuss today's ecommerce landscape and the ways he manages to keep ahead of the curve. Here's what he had to say…
ROI: What excites you about the ecommerce world today?
Andrew: How fast everything changes is what excites (and scares) me. You just can't get too comfortable. Exciting that small companies like us keep innovating and staying on top, and the larger bulky companies will have a harder time doing that. Also scary because it constantly changes.
ROI: Over the years, have any of the developments in ecommerce surprised you in any way?
Andrew: The presence and power of Fulfillment by Amazon. We knew it was powerful and we waited too long to do it, not realizing just how much volume was there. There had always been other marketplaces, but nothing had the power that Amazon does for brands.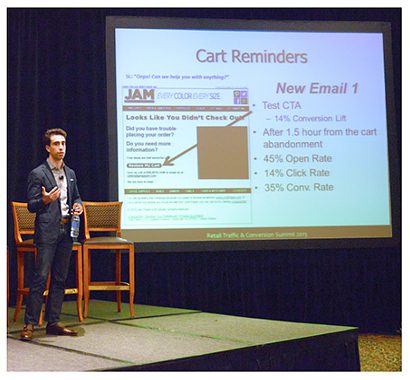 ROI: Your 2015 Summit session on marketing automation was a crowd favorite. What made you decide to return to our stage this year to discuss cross-channel branding?
Andrew: I like the intimacy of the ROI events, it's a very friendly event, it's not intimidating for either the speaker or the audience. Everyone there is talking either right before, or right after – it's a little more like chatting with friends than being at a larger conference in a big dark room where there's no feedback. It's more intimate and it feels more relevant and like everyone's there trying to help each other out.
ROI: If someone attends your session, what is the #1 way they will impact their marketplace revenue for the better when they come back to the office?
Andrew: They're going to just start implementing what they've learned. It doesn't have to be perfect day one. They are going to make small changes and just start the process. That's the hardest part – it sounds very daunting to start, but if you accept that it will change over time it's not that scary.
ROI: Tell us about a major win your company has experienced thanks to your strategy.
Andrew: Branding for me didn't come about on the design side of things – to me branding pertains more to sales. I want people to remember our brand so they could buy more. It was never tweaking the logo or the artwork. Ever since we adopted this branding model, our sales have increased, branded searches have increased, order volume has increased, all of these point to branding. It's not about creative branding, it's about strategically branding.
ROI: That's great to hear you've had such success with it! What made you think to adopt this technique in the first place?
Andrew: When people were shopping at our stores, or shopping on our website, they knew where they were. They were at JAMpaper.com, or they were at our store. Once people began selling on other people's sites (Amazon, Walmart, etc.) and our product was sitting on people's shelves at home from Amazon, the question became, "How can we get them to remember JAM Paper?" and that's when the branding started to evolve.
It started with stickers – get our stickers on everything, then we started to make branded packaging with inserts, and that became most important because it was what was sitting on a consumer's shelf. They had already bought it, and we want to make sure we get that reorder when the customer goes back to wherever it's being sold.

ROI Revolution Summit 2018
This will be Andrew's second time speaking with us at the ROI Revolution Summit, and we are excited to see his presentation! Join us on Thursday, September 13th to attend this session, "The Evolution of "Brand" in the Digital Age," where you will learn how to leverage branding to gain significant momentum in the marketplace, keep your brand top of mind in an increasingly online world, and tips and tricks to stay on top of your Amazon branding.
Ready to Reserve Your Spot?
Visit the 5th Annual ROI Revolution Summit website to learn even more reasons why this event is one you can't afford to miss! Grab your ticket today at our discounted offer of $695 and be sure to stay tuned as we will continue to share a bit of behind the scenes in the weeks leading up to the event.