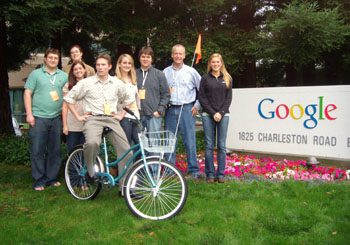 From left to right: Shawn Purtell, Meredith Smith (back), Erin Skinner, Mark Curtis, Page Christenbury, Michael Harrison, Timothy Seward, Katherine Anderson
I recently returned from a trip to the famous Googleplex for the GAAC (Google Analytics Authorized Consultants) conference. Besides the conference itself, the best part about Google (other than the food!) was experiencing the sense of community on the Google campus.
As I walked around the campus, I was greeted with smiles from resident Googlers buzzing all around. It was clear that I was a newbie to the campus by my orange name tag and by my obvious look of confusion, and everyone around me noticed me and took the time to welcome me.
I was given a tour by a Googler named Laura, who all the other Googlers called a "Noogler" because she had just started – a recent Princeton graduate.
In the lobby where they gave me my name tag and where we started our tour, there was a screen with live searches that appeared on it from all over the world in different languages. Laura said that they "tried" to filter out some of the searches, but some of them were pretty random and slightly inappropriate. It was actually entertaining to see that some people really haven't yet learned how to best search on the internet.
As Laura led my team on our tour, dozens and dozens of Googlers passed by on beach cruiser style bicycles with kid-like orange flags on poles rising out of them. She told us that you can just pick up a bike and ride it wherever you want on the Google campus and just drop it off wherever. My teammate Mark took her up on this opportunity as you can see in the picture.
Continuing on our tour, we saw that Google basically offered everything you could ever dream of in a work environment. Jars full of candy. Refrigerators full of free drinks. A massage room. An herb garden. A gym. A Laundromat. A swim station. Even a volleyball court. Oh yes, and how could I forget, the endless cafeterias.

The main cafeteria, Charlie's Place, had everything from Ben & Jerry's ice cream, to Mexican, to sushi, to fresh crab legs. You name it, you could get it. I of course not being used to this unlimited lunch ate a burrito, chips, and 4 desserts – not exactly conducive to a post-lunch learning session!
In my learning sessions for the GAAC conference, I found the enthusiasm and the passion for what the Googlers do to be very contagious, and there was a strong energy for excellence and improvement. Feelings of competition or proprietary expertise were virtually non-existent, as everyone I met seemed more than happy to share info, ideas, tips, resources, experiences and even a good joke or two. The feedback and the instruction maintained a tight focus around the idea of "how can the user experience become even better" with both presenters and their audiences swapping questions and answers. All in all, the GAAC partners and the Google hosts were great to be around and I left with dozens of ideas to put to good use when I got home.
I consider my training at the Googleplex an experience, almost like a college campus, full of excitement and willingness to explore new options and progress.