Insightful, informative, and pretty darn incredible.
After a whirlwind two days of insider presentations and networking events, ROI's 2017 Summit concluded this past Friday.
For those who didn't get to go, or any of you who are just missing that bright Orlando sun, check out these highlights as we recap the exciting event from start to finish!
---
Day 1 – Thursday, March 9th
Timothy Seward and the 2017 State of the Industry Report
After a long and lovely breakfast with all attendees, ROI founder and CEO, Timothy Seward, kicked Summit off with a welcome address that canvassed the event and set expectations high.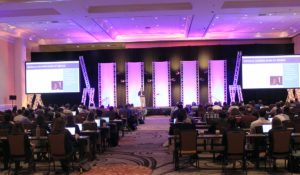 Timothy then brought in ROI's own Justin D'Angelo to deliver the Digital Marketing Benchmark report, touching on all relevant trends in the industry and telling attendees where they should be focusing.
Some key points were:
Mobile click growth for Google is strong, but slowing compared to last year
Mobile Optimization: Site Speed is #1, Usability is #2
Embracing new attribution models in Google is key (first touch, last touch, data-driven)
Mobile payment options, such as Apple Pay, Paypal, and Buying with Thumbprint will make filling out online forms a thing of the past
Keynote Lecture: Ryan Holiday on Growth Hacker Marketing
Justin's report rolled right in to the first of Summit's three keynote speeches. Acclaimed writer and marketing guru, Ryan Holiday, took center stage to discuss Growth Hacker Marketing and how it has fundamentally altered the mindset.
He described the Growth Hacker mindset as a rejection of the traditional marketing playbook in favor of a testable, trackable, scalable method of digital marketing management.
He went on to call it a "Self-sustaining, self-propagating growth machine," and how doing the opposite of what others in your field are doing has become one of the greatest tools in highlighting brand uniqueness.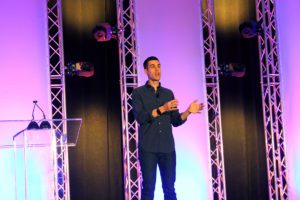 A big highlight of the lecture was on lifetime customer value and what that truly means. Ryan said you can give your product away for an email list or even to promote interest, as lifetime customer value requires an early investment but can guarantee loyalty and longevity.
Keynote Lecture: Joe Thompson on Data-Driven Retailing

After a quick book signing with Ryan Holiday, the Summit floor welcomed BuildDirect's Vice President of Marketing, Joe Thompson, to deliver the second keynote speech on data-driven retailing and the future of analytics.
Joe discussed the main elements that make up a sale:  An Impression – A Product View – A Product Cart – An Order. He roped these four elements into what he called the Marketplace Wheel, a 4 step process by which to understand data generation from customer interaction.
New Selection – More product, more buyers
Buyer Engagement – Data generation
Supplier Action on Data – Data packaged for sellers based on predictive models determining where they should put the data and how they should sell
Buyer Purchase Decision – Customer decides whether or not to buy that product
He illustrated how improving one category helps expedite the other three, as well as how personalizing shopper experience based on the gathered data will be crucial for future conversions.
Consumer Targeting Strategies & Lifetime Value Presentations
After a roundtable lunch, attendees gathered to hear Ryan Dahlstrom (Vermont Teddy Bear) and Greg Zakowicz (Bronto Software) discuss new digital marketing strategies for targeting potential consumers.
A major theme of the presentation was that, as a business, you want customers to associate you with the reward of sale. Your customer has a goal. Your job as a marketer is to help them achieve that goal. It starts with practicing customer empathy and asking questions.
Summit then welcomed Bill Aicher, former CMO of Musicnotes.com, to discuss the lifetime values of customers and how to use their long-term goals to influence marketing practices.
Coming off of what Ryan and Greg discussed, Bill talked about how the purchase should be a secondary goal to engagement, and how marketing has evolved to work around the goals of the customer as well as that of the business.
Content, Social Media, and Marketing Mentality Presentation
The next presentation from David Piercy, Shindigz Digital Marketing Manager, touched on the intricacies of social media content.
David explained how learning the nuances of SMA can be invaluable for businesses, and an indispensable resource for creating user friendly landing pages.
Case Study – Behavioral and Predictive Marketing
Jumping into the first case study of the Summit event, Heather Elmer (Swiss Knife Shop) and Gautham Pandiyan (Windsor Circle) presented a look at behavioral and predictive marketing through a predictive "Win Back" campaign.
The study indicated how predictive data uses dynamic product recommendations based on the consumer, showing off what to highlight across different marketing channels for the specific customer personas that occupy them.
Visual Content and Online Sales
Lifetime's International Online Content Specialist, Paul Nielson, presented a dynamic presentation on how visual content affects online sales. He stressed the importance of how online content needs to uphold the image of a company, giving audiences a consistent and thorough experience.
As an added bonus, Paul devoted a portion of his presentation to showing how to utilize product reviews effectively after properly marketing products/services to consumers.
The Power of Push
With the "Year of Mobile" having finally dawned, this year's Summit had a big focus on mobile traffic. A presentation by Marc Biel, Shopgate's CEO, examined how to leverage online marketing opportunities via proper messaging strategies and smart segmentation.
What Casey called "The Power of Push" helped illustrate how to nail the transition between message opening and a complete online checkout.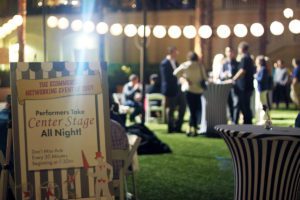 Retailer Panels: Goal Setting Success & Ratings, Reviews, UGC
The Head of Growth for Paid Search at ROI, Ryan Hilliard, MC'd one of the day's retailer panels on goal setting success. The main focus was on setting realistic goals within larger company objectives, and why it is critical to marry larger objectives with everyday PPC practices.
Following Ryan was Fred Swain(Discount Surgical Supply) and Tara Cohen (Lauren's Hope Medical ID Jewelry) with their retailer panel on user generated content and reviews.
They talked about how engaging and incentivizing consumers becomes a self perpetuating marketing machine, and how effective use of UGC can increase traffic and conversions by a substantial amount.
Cocktail Hour & An Evening at Le Cirque

After an already thrilling, albeit packed, day of speakers and presentations, attendees gathered together in beautiful Gaylord Palms Resort to toast the day and mingle. The evening was filled with even more excitement as everyone enjoyed the Le Cirque networking event, which featured aerial, acrobatic feats that awed and amazed.
---
And that was just day one!
Stay tuned for a full recap of the second exciting day of Summit 2017 on the ROI Revolution blog.