(Click for Part 1 of the 2017 Summit Recap)
Insightful, informative, and pretty darn incredible.
After a whirlwind two days of insider presentations and networking events, ROI's 2017 Summit concluded this past Friday.
For those who didn't get to go, or any of you who are just missing that bright Orlando sun, check out these highlights as we recap the exciting event from start to finish!
---
Day 2 – Friday, March 1oth
Opening Address and Retailer Welcome
Starting bright and early, ROI founder and CEO, Timothy Seward, again welcomed all attendees and officially began the second day of events.
After an exciting and successful day 1 of presentations and networking, Timothy proudly outlined the final day events and thanked everyone for their participation.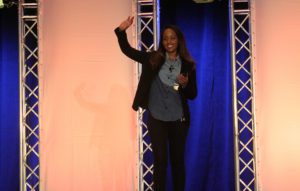 Keynote Lecture: Mary Haile on How Mobile Changes the Omni-Channel Shopper Experience
The day started off strong with the final platform keynote by Mary Haile, Facebook's Product Marketing Manager. Her fascinating presentation focused on how mobile-first ecommerce is changing the experience of multi-channel shoppers and the path to purchase.
She spoke specifically to the Facebook perspective, citing six specific ways Facebook can help drive sales in the mobile era. They were:
Helping Minimize Friction in the Path-To-Purchase: Facebook's ability to invest in ad formats that were designed for mobile, such as canvas ads, carousel ads, and video ads.
Adapting Your Offers and Promotions to Mobile: Facebook offers mobile promotions that help incentivize purchase online or in-store, reminding people of expiring offers.
Marketing to People, Not to Devices: Facebook can help businesses avoid targeting consumers who have already purchased by gauging consumer intent.
Providing Locally Relevant Content: Utilizing location-based services, Facebook helps make ads dynamic and relevant to local inventory.
Investing in Your App to Boost Customer Lifetime Value: Facebook helps by narrowing the focus on users that will install your app and participate.
Measuring Cross-Device Everything: Facebook delivers cross-device reporting data and people based measurement as opposed to data based soley on clicks.
Seasonality: Using Data to Ride the Demand Wave
With Spring and Q2 just around the corner, Seasonality was an important aspect touched on during this year's Summit. Mark Bietz, CMO of Fun.com, delivered a hands-on presentation on using data to cruise the demand curve and planning for growth.
He spoke about proper preparation for traffic increase, including maintaining a stable web experience and fleshing out consumer profiles to improve buyer interaction. He said planning strong search and PR strategies ahead of time was paramount for success during peak seasons, no matter how strong the seasonal change a particular business experiences.
Keeping Up With Customers: Email Personalization & Automation

After a networking lunch with fellow retailers and attendees, a dual presentation by Joe McHugh (Director of Online Marketing for Gardener's Supply) and Ross Kramer (CEO of Listrak) focused on the complexity of consumer behavior and the value of personalization.
They talked about how McHugh's company utilized personalized, automated campaigns from Listrak to substantially increase email revenue, as well as the techniques necessary to make them strategic and profitable.
Optimizing for Mobile – Retail Change at Warp Speed!
For both large and small online retailers, the tactics used for mobile optimization are constantly in flux. Bill Keefe, president of Julianna Rae, shared his company's experience with the mobile marketplace and how they took steps to successfully, and efficiently, anticipate the changing landscape.
Content Marketing: Driving Revenue Through Leadership
According to the Content Marketing Institute (CMI), fewer than 40% of marketers find widespread success with their marketing efforts.
Director of eCommerce for U.S. Patriot Tactical, Tiffani Frey, demonstrated some real life metrics on what determine successful marketing efforts, rounding off her discussion with tips on creating/managing a content distribution strategy.
Closing Keynote: Tim Reis on Making Micro Moments Count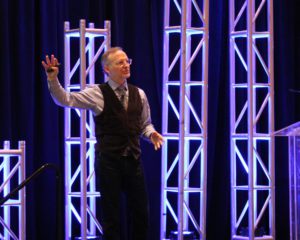 In the final presentation of the day, Google's own Director of Performance Agencies, Tim Reis, delivered a closing keynote on split second shopper intent across mobile devices and how to make the most of what he calls "micro-moments."
He examined the process of fast conversions, providing insight from one of the most explosive companies of the digital age into how consumers search and decide to purchase.
---
Check out the ROI Revolution blog for continued industry insight!