What an outstanding experience IRCE has been! With so many industry-leading speakers and sessions, the last two days have been a whirlwind of insights.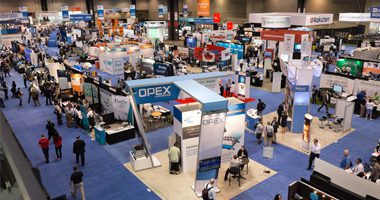 One of my favorite sessions of the week was by UPS on the Pulse of the Online Shopper. It had particularly interesting information discussing trends based on a statistically significant set of purchases from shoppers. These consisted of at least two online purchases in a typical three month period.  Here are a few of the items that were "iPad worthy" from my notes:
Apparel and Accessories are now the #1 on-line category with sales reaching $14 billion in Q1 2016.
62% of e-commerce transactions in Q1 had free shipping.
Free shipping and exclusive online deals are the top two most important factors for online shopping.
In Q1 2016, mobile app visits surpassed mobile web browsing visits for first time ever.
More expensive products are far more likely to be purchased on a desktop. Screen size plays a strong factor in this.
50% of orders, where applicable, are shipped to the corresponding store for pickup. Of these, 46% made additional purchases at the store.
Shopping preferences:
74% of on-line shoppers rate product selection as the most important factor.
46% abandon a shopping cart due to shipping time being too long or not clear/provided.
48% say guaranteed delivery dates are important.
20% of shoppers expect two day delivery as standard.
Top reasons to shop at small retailers:
50% say it's due to unique products.
34% is due to community support.
33% is due to an inability to find the product from traditional sources.
For more details on this study, check out the UPS Pulse of the Online Shopper white paper.
————————————————————————————————————————————
One of the other incredibly informative sessions was hosted by Nathan Safran of Blue Nile Research. He discussed content and channel preferences based on a study of 525 US respondents via an online survey.
Key insights (after initial motivation had been established) included:
Buyers say they want cold, hard facts (B2B and B2C were roughly equivalent in this).
How thorough people tend/plan to be (intent); 72% B2C and 76% B2B use three or more channels before making a purchase decision.
Buyers turn to traditional channels such as search, website, and customer reviews/case studies approximately 80% of the time.
Retailer websites are the central hub in the buying process.
The marketer's job is now focused on helping: enabling the consumer to buy via education vs. the old method of convincing/persuading to buy strictly through advertising.
Overall, IRCE has been an exceptionally informative and worthwhile experience. The overwhelming number of sessions, speakers, presentations, and displays is truly a testament to the exponential growth in the ecommerce industry.
I can't wait for next year's event, and rest assured that ROI will be there to give you all the juicy details.
If you enjoyed this article and would like to hear more about ROI's experiences at IRCE, you can read part one which goes into more details about Wednesday's sessions.