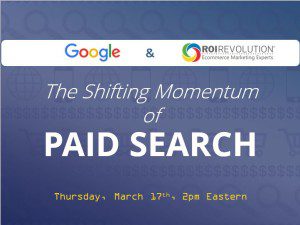 The momentum of change in paid search is staggering.
We finished our annual benchmark report last month, which reviews paid search trends over the last two years.
Usually, these industry insights remain exclusive to our analysts and clients. But this year, the trends we saw were just too important not to share.
Take Google Shopping for example. Shopping has been a hot topic for a while now, but did you know that roughly half of Google Search clicks are now Shopping clicks?
Two years ago, it was 31 percent. Two years before that, Google Shopping as we know it today didn't even exist.
When you delve into Google Shopping click volume by device, the numbers are even more game-changing:
55 percent of Shopping clicks are now coming from mobile.
What does this mean for your ecommerce marketing strategy?
Join Google and ROI Revolution live on March 17th at 2pm, as we discuss this and other important industry trends—and what they mean for your business.
Register today and save your seat. We'll be answering all attendee questions, so make sure to join us live!