In an exciting recent announcement, which was followed by an email to merchants, Google provided more information about the surfaces across Google program. Originally announced in mid-2019 as a program to freely showcase merchants' products on Google search results and across Google's managed platforms, retailers were ecstatic about the potential of receiving more unpaid traffic.
Nothing is better than free traffic that can lead to site visitors and potential sales, right? The surfaces across Google program is exciting for that exact reason.
One of the best parts is that if you were already submitting a quality data feed to the Google Merchant Center before the 2019 announcement, then you may already be serving these product results!
If you recently started submitting data to the Merchant Center, then getting started is easy, too. All you need to do is opt into the program in the Growth > Manage Programs settings.
If you're not operating a data feed in the Google Merchant Center to run Shopping campaigns but you offer products for sale on your site, you can still benefit from this new program (explained more below) – and Google may prefer this method.
April 21 Update
Google announced on April 21, 2020 that they will be advancing their plans to make selling on Google free in more ways!
Beginning the week of 4/27/2020, search results on the Google Shopping Tab will consist mostly of free product listings. Whether merchants are advertising on Google Shopping or not, they will be eligible for these free listings, which will help them better connect with consumers.
In addition to the organic listings that can be driven through the Surfaces across Google program, these Google Shopping Tab free listings will make it easier for consumers to discover products and provide free exposure for retailers in real estate that used to be paid.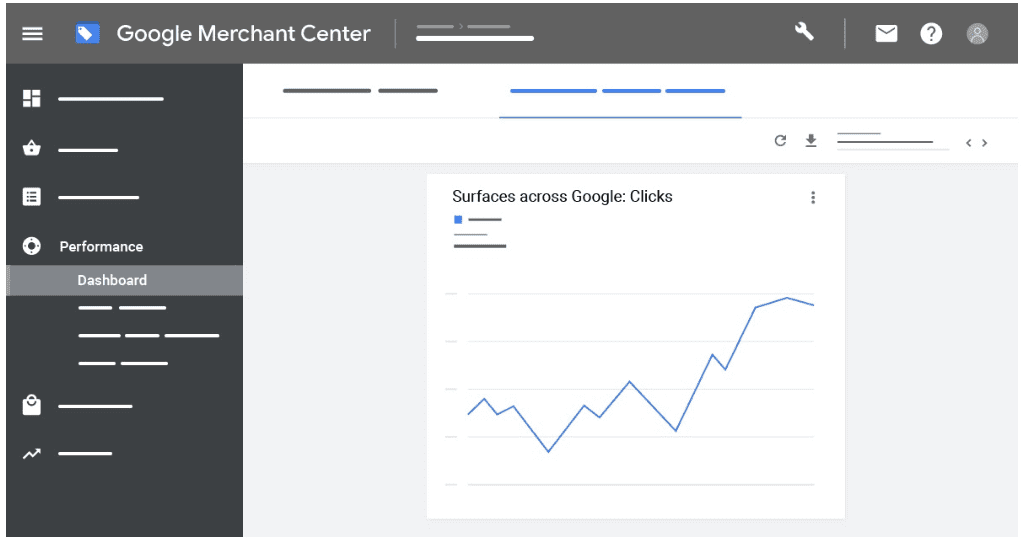 While this is a huge opportunity to increase exposure of your brand and traffic to your site at no cost, this will also likely lead to an increase in competition, with the cost barrier of entry being removed. Before, the only way to track Surfaces across Google traffic was in Google Search Console, but starting soon, reporting for Surfaces across Google traffic will be visible in the Google Merchant Center by selecting the "Performance" option on the left sidebar, and then selecting "Dashboard".
What's New?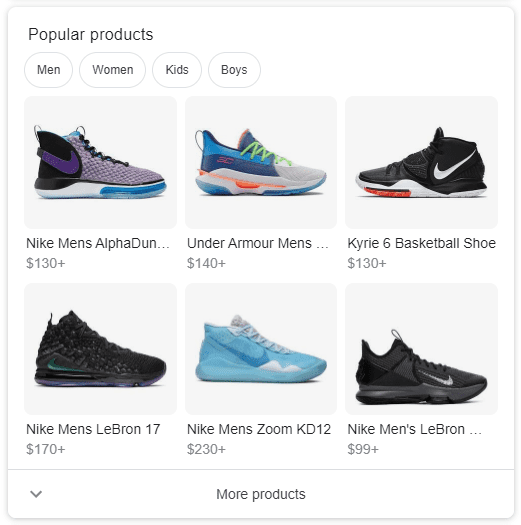 While these product-based results could previously be featured on Google's standard results page and Google images, Google has stepped up the opportunity factor for apparel and accessories with a visually appealing "Popular products" section in the middle of the results page.
Currently, this section most often appears on mobile devices. It also surfaces on desktop and tablet results pages, just not as often.
Testing on mobile devices, we found that these "Popular products" groupings are served most often when shoppers use broad search terms like "plaid shirts" or "basketball shoes."
Google also, if applicable, allows searchers to drill down into different demographics like age group and gender.
The results may include groupings of products offered by different retailers (like what would appear when comparing stores in the Shopping tab) or they could just lead directly to a product result like seen in the example to the right.
Product Feed Best Practices
One of the simplest ways to be included in surfaces across Google is to submit a high-quality data feed to the Google Merchant Center. While merchants who provide fully optimized feeds that meet Google's required and recommended best practices should already be exceeding standards, they should still make note of the most important attributes for the program:
id

title

description

link

image_link

price

brand

gtin*.

Note that some items, such as custom products, may not have gtin values; therefore, they are not eligible for the Surfaces across Google program.

availability (recommended). 

This prevents shoppers from being directed to items that currently cannot be purchased.

canonical_link (new).

Merchants can use this if they prefer to provide a canonical link instead of whatever value they may be providing for the "link" attribute.
In addition to optimizing data provided in their feed, Google recommends that merchants also update tax and shipping information as well as complete certain website and business verifications. These steps may already be completed if other programs required this setup previously.
Google provides valuable insight into best practices around a few attributes, but ROI Revolution recommends these additional optimizations to enhance both your surfaces across Google traffic and standard Google Shopping traffic (as well as Shopping Actions if you are leveraging that program):
Optimize title and description content to contain high-value terminology that is relevant to the queries that drive the strongest traffic. Google states that the first 70 characters of the title should include the most important product details. ROI Revolution suggests focusing even more closely on the first 30-35 characters, as that is most often what is shown to shoppers.
Always submit high-quality images! Don't be afraid to test images that are more lifestyle focused or include a model (if applicable). Use multiple images to feature different angles, components, features or arrangements.
Make sure you utilize item_group_id, size, and color accurately so that variant products are grouped together by Google's algorithm.
SEO Best Practices
Aside from providing data in a feed to the Google Merchant Center, merchants who have structured data markup on their website will also have their products shown in Surfaces across Google. Google states in the best practices article from above:
"Product pages with structured data markup are more likely to surface in free result types across Google surfaces."
Information regarding product structured data markup can be found on Google's developer website.
For configurable product pages featuring multiple variants, be sure to clearly mark the exact price for every variant on that page. Not doing so is against Google's guidelines. If you are unable to accurately list variant prices, the creation and submission of a product feed via the Google Merchant Center will prove more effective.
Measuring Performance
Before this announcement, one of the biggest questions merchants had was how performance of the program could be evaluated. When originally publicized in 2019, these ad type product units were difficult to pinpoint and merchants didn't have a simple way to track the traffic or impact.
The new announcement provides answers… almost.
In the email most merchants who were opted into the program received, information was provided on how to glean insights from traffic coming from the program's results. Google provided more information in Q1 2020 expanding on information from late Q4, which allows merchants to review search result performance via Google Search Console.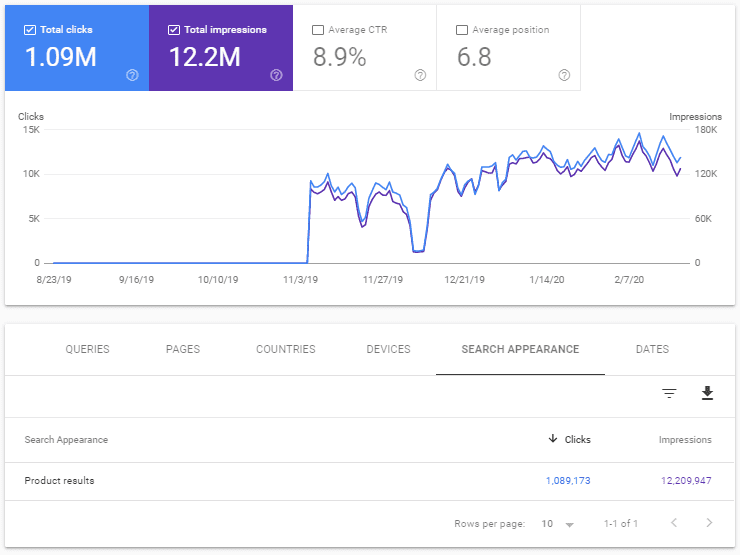 By filtering search appearance to product results, merchants can view organic traffic, position, and click-through rate. Once this filter is applied, merchants can then view the following variables specifically for product results:
Query

Page (URL)

Country

Device

Date
The visibility into performance is not without its limitations. As you can see from the above screenshot, reporting began in early November 2019 and did not backfill.
Additionally, users are not able to drill down further into the specific type of product results placement, so you can't tell whether your organic placement was standalone or in a series of product listings.
Conclusion
As we all know, Google is rolling out new updates, features, and beta programs weekly. While we might not have a lot of insight into the surfaces across Google feature yet, merchants can expect to learn more as time passes. The best course of action for merchants is to ensure their feed is optimized and passed with minimal errors to the Merchant Center and that structured data for products on their site is optimized accordingly. Until more information is gleaned about the program, our best recommendation is to meet and exceed Google's requirements for the surfaces across Google program.
If you're looking for more information on Google Shopping, here are some of our top resources: