Updated September 21, 2022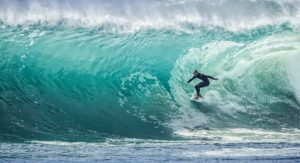 I really enjoyed Justin Ferrell's keynote about organizational design. Four things especially stuck with me:

1. Focus on the innovators before innovations.
2. To get radical collaboration, you need cross-discipline teams. If you only hangout with similar people (which is the tendency ex: business majors hanging out with other business majors), you won't get real innovations.
3. Uncover needs by talking with people. More importantly, focus from the onset on the extreme and Designing for the extreme may result in a market winner.  If you focus on the average user, you may get an average outcome (and who wants to be average?).  Did you know that wheeled suitcases were actually targeting pilots and flight crews due to short turnaround times?  I think you get my point…
4. Focus on creative problem finding creative problem-solving.
I also attended a great panel session on engaging product content and the shopping experience from two very different companies – GoPro and Lowe's Home Improvement.
For me, rich, valuable content is key for any marketing team to create and distribute. Given GoPro's market and their focus on "sharing life's moments," I think it's easy for them to share interesting content that grabs your attention, like the GoPro Lion hug (4.5M views and growing). Lowes, on the other hand, has the challenge of promoting more traditional products.
That said, Lowes is really doing some great things with their millions of SKUs to increase conversions (think 360 images, better descriptions, tips, and demos), which are resulting in a 34%+ lift in conversions on targeted products. Impressive stuff.
In a final session,  I was struck by data from The Shane Company, which indicates that 90% of store purchases are influenced by online channels and content. That's really high – but completely believable for me, especially given the importance of items such as engagement and wedding rings and the overall price point of jewelry.
That's my two cents on day two.