It seems obvious: The more times a customer is exposed to a brand or product, the more likely they are to make a purchase. So why do companies selling on Amazon devote so much of their budget to Sponsored Products and lower-funnel strategies instead of a full-funnel Amazon strategy?
For some, it could be a matter of return. Sponsored Brands and Sponsored Display campaigns don't normally see as high a ROAS as Sponsored Products campaigns, especially for companies with a lower AOV. For others, it could be a misunderstanding of how to properly utilize all of the types of Sponsored Ads in a full-funnel strategy.
Some companies use the different Sponsored Ads campaigns for one specific purpose that doesn't overlap with the other ad types. They may use Sponsored Brands for brand awareness, Sponsored Display for competitor targeting, and then Sponsored Products for conversions. While this strategy can be successful, it leaves opportunities for improvement on the table.
Using Amazon's new Amazon Marketing Cloud, brands can now begin to see just how important it truly is to use all of Amazon's available ad types to tell a cohesive story and how important it is to invest in a full-funnel Amazon strategy.
Single Touchpoints: High Impressions, Low Conversions
Of course, if you're going to utilize all of the ad types that Amazon currently has available to advertisers to improve conversion rate, you have to assume the customer won't just purchase the first product they see on the search results page. Everyone's guilty of it occasionally. You go onto Amazon with a specific product in mind, you click on those first couple products you see, maybe check some reviews, and then hit that Add to Cart button and check out immediately.
This is rare, however. While this reinforces the need to ensure that your ads own the top of placement spots, it also comes with a hard pill to swallow: Just .03% of customers exposed to a single ad for a specific company make that purchase. While quantity over quality may be the norm in some categories, for most brands, that won't get you to where you want to be.
Sponsored Ads, DSP, & Me
How big an impact does each additional exposure to a company and their products have on that purchase rate? The answer is practically exponential.
Having a customer be exposed to two ad types leads the purchase rate improve by 412%. If they're exposed to three, customers are 2,534% more likely to purchase compared to just one touch point, and a whopping 5,890% more likely if they encounter four different ads!
And it isn't only an improvement in customers making purchases. The ROAS for customers being exposed to four ad types is nearly double that of customers who make the purchase after being exposed to just one ad.


Crafting a Successful Full-Funnel Strategy
There's more to building a successful cohesive full-funnel Amazon strategy than just throwing budgets at different ad types. Each different ad type needs something specific to focus on as part of that journey.
Sponsored Brands Ads are the most successful in the brand awareness arena, but how you use them can greatly impact the rest of your strategy. Do you use the traditional static Sponsored Brands or do you use Sponsored Brands Video? Do you use them to drive traffic to a specific product page or to your Brand Store?
If you can't decide, Amazon's Sponsored Brands Attribution Report can provide a look at purchases attributed to Sponsored Brands campaigns over the last 14 days, including if they were the featured product of that ad or in the brand halo. Combining that report with the Brand Store insights can help you determine the landing page for your Sponsored Brands ads. If you're trying to drive awareness for a new product, driving to the PDP may be more beneficial.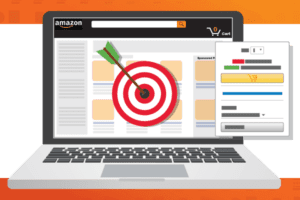 Amazon Brand Analytics provides invaluable in-depth reporting about how a shopper interacts with your brand. The value it can provide is extremely useful for developing a full-funnel Amazon strategy. In Amazon Brand Analytics & Your Advertising: 5 Reports to Optimize Your Campaigns, get a high-level overview of each report and how you can leverage them to drive your goals forward.
Sponsored Display and DSP are commonly the final piece to the conversion puzzle due to their retargeting capabilities. For established products, highly competitive categories, or products with a longer time to conversion, retargeting with Display ads can be the difference between a successful full-funnel strategy and one that sees a high volume of lost conversions. For newer products, or if you are trying to get those extra YoY growth percentage points, establishing prospecting and competitor targeting Display campaigns to reach more specific targets that Sponsored Brands can't reach can help refill your sales funnel for those retargeting campaigns to circle back on.
Everyday Use vs. Sales Events
It is certainly no secret that Prime Day and Cyber 5 are foundational sales events that almost every digital retailer plans for each year. Impressions, clicks, and sales all see significant boosts over these periods. Simply increasing bids and budgets for the event will bring returns – but not to the elevated level that a short-term full-funnel strategy would deliver.
These events can be treated as mini sales funnels in themselves. While in an evergreen strategy you may see time to conversion range from a couple minutes to over a week, special sales events see near immediate conversions.
All this means that you need to lay the groundwork early. Launching Sponsored Brands campaigns featuring products that will be on sale a few weeks ahead of the event can get customers into the awareness phase and beyond to the consideration phase. Come event day, they dive in, see the product is on sale, and make the purchase.
Launching retargeting campaigns right before the event and carrying them through for the lead out period over the next few weeks helps clean up any stragglers who didn't make the immediate purchase. The weeks after a major sales event are an opportunity to drive additional sales that often get overlooked due to the assumption that customers made their purchases during the event and are no longer shopping. DSP retargeting is a critical tool for these periods, as the ads can serve off Amazon to customers who may not be as active in the sales journey.
Using a Story to Boost Performance
Everyone has seen a movie where the story felt disjointed and hard to follow. It doesn't do well at the box office and eventually ends up in the discount bin at the store.
Not creating a cohesive story with the different Amazon ad types is like making a movie with a disjointed, hard-to-follow plot. You'll see some success with each different ad, but you realize a ton of potential customers walked out of the theatre between the ads.
If you can connect each ad to the next one in the customer journey, conversion rates start to increase, sales climb, and eventually so does customer loyalty, as those retargeting ads you're running now are serving to people who are looking to buy that extra pair of shoes, score the newest laptop, or upgrade their home office with new furniture.

Tying It All Together: Full-Funnel Amazon Strategies
According to our 2023 State of Digital Marketing Survey, 53.7% of businesses plan to increase or maintain their Amazon budget this year. Keeping up with the competition can be an exciting (or stressful) challenge – especially as new campaigns and programs emerge like Sponsored Brands Video, Amazon Live, Born to Run, and more.
Having a team of dedicated experts by your side who work in the weeds with Amazon every day can help empower your brand with knowledgeable strategies to achieve your goals. To explore the untapped opportunities we could discover for your brand to grow profitably through Amazon, send a message to our team today.