A "mistake" that we consistently see when conducting our AdWords account audit and strategy sessions, or when beginning work with a new client is that there are no negative keywords throughout the entire account. The use of negative keywords can save you hundreds of dollars every month by preventing your ads from displaying for irrelevant Google.com searches.
The addition of negative keywords to your account should be made in order to have your ads show only when it is relevant to your product offering or service. The easiest (and quickest) way to find negative keywords is to use the Google AdWords Keyword Tool.
This tool can be found by clicking on "Opportunities" at the top of the new AdWords user interface…
…and selecting "Keyword tool" found on the left hand side of the following page.
On the next screen you can enter a few of the keywords you are currently bidding on in your account. Let's say that you operate an office supply company. Common items you might sell include staplers, Scotch tape and paper clips. When you enter these three keywords into the tool and click "Get keyword ideas", you will see a list of keywords populate.
Once the list populates you can select the match type on the far right. Use the drop down menu to select "negative".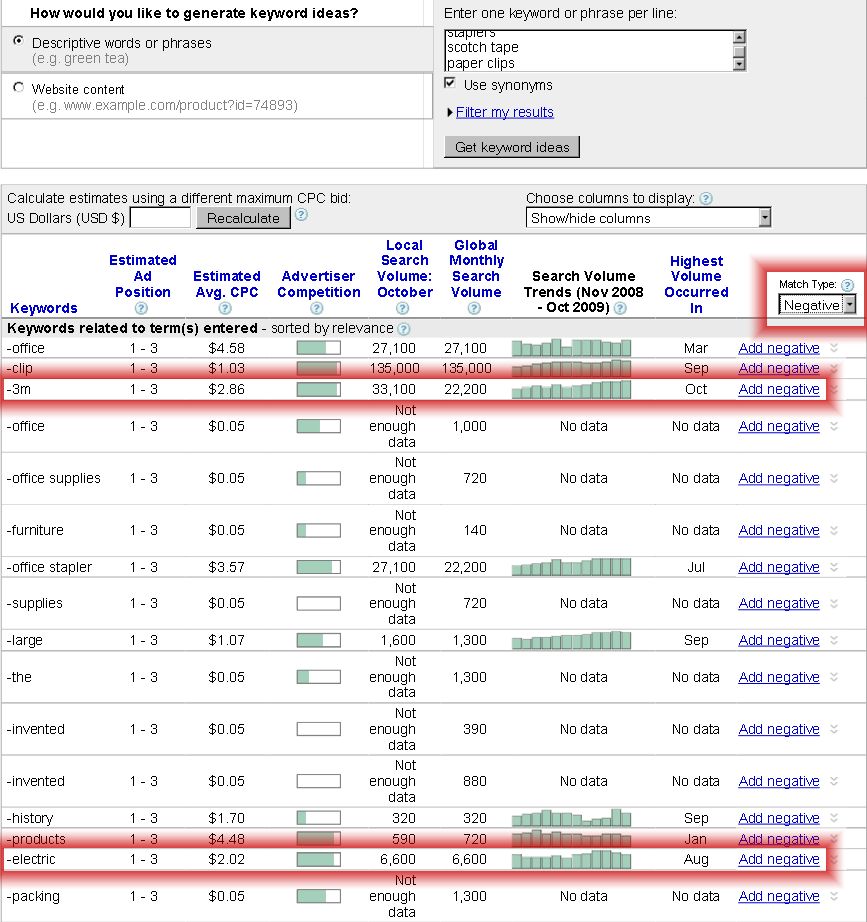 The populated list will change to potential negative keywords that are worth consideration for inclusion in your account. You will be able to see the negative keywords suggested, as well as the number of times your ad will not show on Google.com by adding the negative keyword.
In this example above, the keyword 3m may be a good negative keyword. Perhaps you do not supply 3m products for purchase, and if such was the case, adding 3m as a negative keyword would be a great tactic that could potentially save you a great deal of money.
Another example is the keyword electric. This negative keyword suggestion is most likely associated with the keyword "stapler" that you entered originally to populate the list. Perhaps you offer staplers but not the electric type. Adding the keyword electric as a negative should be done so that your ad does not display and run the risk of costing you money when that visitor will only hit the back button once they land on your site because you do not have the product they want.
Negative keywords are essential for making a killing with Google AdWords. This tactic will save you money, guaranteed.