As brands gear up for Amazon Prime Day 2020 and the holiday season, many are planning to offer deals and promotions on Amazon to entice shoppers to choose their products over competitors'.
But with so many options, it can be difficult to decide what type of promotion will be best for your brand and products. Having a clear understanding of all your options and the implications of each will provide clarity into which type of Amazon Advertising discount is the best fit for you and your brand.
1. Lightning Deals
The most well-known type of Amazon deal is the Lightning Deal. All Lightning Deals must be submitted to Amazon and meet their percentage discount and inventory requirements and also require a fee to participate.
These deals are time-specific, featuring the product on deal for a few hours. Lightning Deals include a timer countdown showing when the deal will end beneath the discounted price. Lightning Deals also only apply to a certain amount of inventory, so Amazon shows a status bar featuring the percentage of the deal that has been claimed.
While these deals only run for a limited amount of time, the addition of the countdown and percentage of deal claimed creates a sense of urgency in shoppers, encouraging them to purchase now before it's too late.
Lightning Deals also receive special placements, such as Amazon's "Today's Deals" page as well as the Deals subpage specifically designed to feature Lightning Deals. These pages are frequented by many Prime shoppers, especially during major shopping events like Amazon Prime Day 2020 and Cyber 5.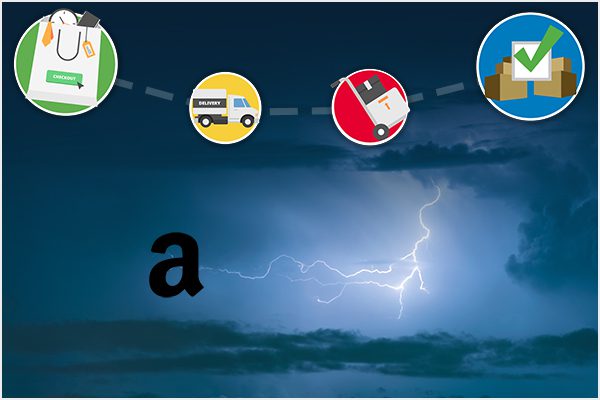 2. Deals of the Day & Best Deals
Deals of the Day are treated very similarly to Lightning Deals. Like their name states, these deals will last for a full day and often feature similar discount and inventory requirements as Lightning Deals.
Products with a Deal of the Day will also appear on the Today's Deals page and will receive an orange "Deal of the Day" symbol above the discounted price. If you're looking for longer promotional discounts, Amazon's Best Deals run for up to two weeks and receive a red "Best Deal" symbol. As with the other two deals, there is a minimum discount requirement.
In order to use "deal" or "saving" keywords in Sponsored Brands ad copy, the featured products must all utilize one of these three deal types. Lightning Deals, Deals of the Day, and Best Deals are also the only types of discounts that can be pulled into your Amazon Store page with the "Featured Deals" widget.
The use of this widget is also required to include "deal" or "savings" phrases as a Store subpage name. Any other form of discount or promotion will not be allowed to include such wording. Instead, you are able to manually add your discounted products using the Product Grid widget and name the subpage "Featured Products" or "Best Sellers."
3. Price Discounts
Price discounts on Amazon do not require minimum discounts or the high fees of Deals. These discounts are often represented as a slashed-through price with the discounted price in red underneath. These discounts also include feature the language "You save: X%" to clearly communicate the impact of the discount.
While they do not provide the premium placement that comes with one of the above Deals, price discounts are generally more affordable and allow for more flexibility. Price discounts are also able to run for a longer period of time (up to one year).
4. Coupons
Similar to a coupon you would clip from the newspaper, coupons on Amazon must be "clipped" (clicked on) before adding the product to your cart in order to receive the discount. These coupons appear on Product Detail Pages beneath the price with an orange "Coupon" logo next to a checkbox for the shopper to "clip" the coupon. The explanation of the coupon is listed in green. These coupons can offer either a dollar amount or a percentage discount off the product.
Now that you have a more clear understanding of the available options for Amazon Advertising deals and discounts, you will be better prepared to make decisions around the best options for your brand and products. Inventory, profitability, and length of discount are all key factors to consider when planning future promotional discounts on Amazon.
Book a Meeting to Reach Your Highest Potential on Amazon
What heights could you reach on Amazon if you had a guide to show you the way? We can help you navigate the path to where you want your brand to go – not only on Amazon but also the other retail media channels like Target, Walmart, Wayfair, and more. To explore the difference that comes with having a guide you can trust, book a meeting with our team today.
You can find more Amazon Advertising news from our blog below:
Sources