As I was conducting a live webinar recently on Google's New AdWords User Interface it dawned on me that there are thousands of AdWords users that are not using many (or any) of the free time saving tools available on the web.
Working at a ppc agency, we share new tools and techniques on a weekly basis. Individuals managing their own accounts are not as fortunate and do not get these insights.
I wanted to take a few minutes and highlight the top 5 tools (in my opinion) that all AdWords users should be taking advantage of. They are all free and could save you tons of time and money.
After reading the reviews add the links to your toolbar for quick easy access during your AdWords management.
I know we all have busy schedules so I've condensed my descriptions to include only the meat and potatoes of what each tool has to offer and why you would want to use it:
What it does: AdWords Editor is a free Google application that you download onto your desktop. It allows you to work offline and upload your changes when you are ready.
Why use it: Working offline to make huge account wide changes can be a great safety net. It allows you to check your work before posting changes. It also allows you to quickly navigate through your campaigns with zero time wasted waiting for pages to load. One final plus is that AdWords Editor will automatically catch any technical mistakes you have made and will not allow you to post before you correct them!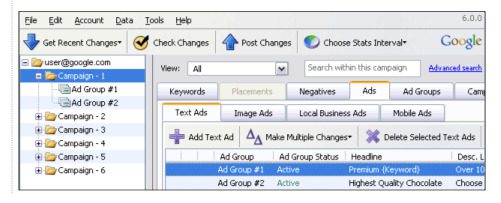 What it does: A free tool brought to you by Mike's Marketing Tools that quickly and easily changes a raw search term into one or all of Google's match types.
Why use it: Use this tool because no one needs to waste time manually adding quotations or brackets around keywords!
What it does: Quickly merge two or three lists of words.
Why use it: This quickly allows you to build out relevant keyword lists without opening Excel.
What it does: It's a one stop shop for all the resources that Google offers agencies and individual advertisers.
Why use it: Instead of having 50 bookmarks for Google's resources on your toolbar add this link to keep up with the latest tools and resources.
5.Visual Thesaurus

What it does: OK so this one is not 100% free but for $2.95 a month we decided it is close enough! Basically the visual thesaurus helps you find new synonyms while displaying them in a handy word map.
Why use it: This tool can be used for brainstorming keywords and writing new ads. We've all had writers block at one time or another and this tool helps alleviate this issue!
I guarantee that taking the time to familiarize yourself with each of these tools will definitely pay dividends. There are tons of other tools available out there and I encourage you to always be on the lookout for new ones!
By the way, if you want to access a video recording of the webinar I mentioned I did with our CEO and a special Google guest on Google's new AdWords interface, click here to watch the webinar.