IRCE is Internet Retailer's annual conference for ecommerce businesses, and it kicks off next week at McCormick Place in Chicago, IL. Do you know what sessions you're attending? There are over 130 to choose from, but there's no need to feel overwhelmed. We've compiled a list of some of the top sessions to check out at IRCE 2019.
For a more in-depth idea of what these sessions are like, you can review our IRCE Day 1 and Day 2 recaps from last year. You should also check out our IRCE 2019 predictions to make sure you're extra prepared!
You can see the full list of sessions here.
---
Keynotes
You obviously don't want to miss any of the keynotes. This year's stellar lineup covers myriad topics related to retail and ecommerce to inspire your success.
The Future of Retail in a Post-Digital World
Doug Stephens, President & Founder, Retail Prophet | Tuesday, June 25, 3:00 PM
Get a tour from renowned author and consumer futurist Doug Stephens of retail's radically transformed future and look into how shopping will be redefined by virtual technology, 3D printing, the Internet of Things (IoT), and more.
Hitching a Rocket to an Engine, Bonobos and Walmart Takeoff
Andy Dunn, SVP, Walmart | Wednesday, June 26, 8:30 AM
Learn from former Bonobos CEO and current SVP of Digital Consumer Brands at Walmart why digital brands are growing at nearly triple the rate of ecommerce overall and how direct-to-consumer (D2C) brands are shaking up traditional retail.
Intergenerational: Leveraging the Power of a New Workplace Diversity
Chip Conley, Strategic Advisor, Airbnb | Wednesday, June 26, 9:00 AM
Learn how the exchange of wisdom and skills among different generations in the workplace is the key to modern success in a day and age when one workplace may span up to five generations.
Five Years In: What I've Learned About Building a 21st Century Retailer
Susan Tynan, Founder & CEO, Framebridge | Thursday, June 27, 8:15 AM
See how Susan Tynan grew her online business and expanded a mostly nonexistent market, all by keeping one strategy as her guiding north star: putting the customer first.
True Grit: A Warrior's Mettle Builds an Ecommerce Brand
Dan Alark, Founder & CEO, Grunt Style | Thursday, June 27, 8:45 AM
Get insight into the military teachings that Dan Alark used to launch his ecommerce company into a 2-million-follower business that's brought in $100 million over the past three years.
---

---
Pre Show (

Tuesday, June 25)

The lineup for Tuesday highlights ecommerce technology, growing your ecommerce business, and working with Amazon.
Excelling on Amazon in 2019 and Beyond
Fahim Naim, Founder, eShopportunity | 8:45 AM
Get insight into the latest Amazon developments and trends to help steer your business into a successful future.
The Marketing Stack: Demystify the Array of Solutions to Build and Optimize
Marta Dalton, Global Director of Ecommerce, Unilever | 10:00 AM
Learn methods for evaluating the more than 7,000 marketing solutions currently available and how to organize the stack to optimize your ROI.
Save the Agony: How to Choose Best Fit Technologies – and Partners – and Not Go Mad
John Coniglio, Senior Consultant, FitForCommerce and Mark Holmes, Ex-COO, Coldwater Creek | 10:50 AM
Learn about the current ecommerce platform landscape and leave with a requirements-gathering framework, best practices checklist, and list of questions to ask potential partners.
Reviews: Know the Rules, Avoid the Buried Mines
Jeff Cohen, CMO, Seller Labs and Kelly Ennis, Director of Marketplace Strategy & Analytics, JAM Paper & Envelope | 10:50 AM
Get an understanding of Amazon's ever-changing policies on reviews direct from one of ROI Revolution's clients, JAM Paper & Envelope! These policies will help ensure that your product's reviews make, not break, your business.
Selling B2B or B2C: What B2B and Brands Must Get Right on Technology
Mike Earl, Senior Director of Omnichannel, Timbuk2 and Lucas Robinson, CEO, Weblife Stores | 11:50 AM
Learn different approaches for stepping out of your comfort zone to leverage digital as a B2B or brand manufacturer.
25 Top Free and Low-Cost Marketing Tools and Services
Craig Smith, Founder & CEO, Trinity Insight | 1:30 PM
Get an insider's list of free and low-cost tools along with tips for extracting the best results with minimal investment.
Making Sense of Email Marketing Today
Cindy White, Senior Ecommerce Marketing Manager, Plow & Hearth | 2:30 PM
Learn how ROI Revolution client Plow & Hearth closed gaps between its program and industry standards to improve its email marketing campaigns.
How to Price Your Product on Amazon
Carly McGinnis, General Manager, Exploding Kittens and Gil Mizrahi, VP of Product & Business Development, Feedvisor | 3:15 PM
Learn from ROI partner Feedvisor about Amazon's philosophy on pricing and how to price your products for maximized profits.
---
Day 1 (Wednesday, June 26)
Wednesday's sessions focus on the retail C-suite, omnichannel marketing, marketing vitals, building brand value, and placing the right bets now for the digital future.
How I Went From an Idea to $100 Million
Moiz Ali, Founder & CEO, Native | 10:30 AM
Learn how one business owner developed a best-selling brand after spotting a market gap and sold it to Procter & Gamble for a reported $100 million after only 2.5 years.
Great Expectations: A Preview of the 2019 UPS Pulse of the Online Shopper Report
Sean Flaherty, VP of Global Retail Strategy, UPS | 3:15 PM
Look at data that will teach you about heightened customer expectations and how you can use them to your advantage.
Get Seen: Have a Brand Identity on Online Marketplaces
Brian Riley, CEO, Guardian Bike Co. and Andrew Jacobs, CEO, JAM Paper & Envelope | 3:45 PM
Learn from ROI Revolution client JAM Paper & Envelope how to get seen on marketplaces, convince shoppers that your products and services are different than other sellers', and how to drive the most brand building ROI, and more.
Don't Be a Blockbuster in a Netflix World: Why Shifting Your Focus to Mobile Is Inescapable
Casey Gannon, VP of Marketing, Shopgate | 4:15 PM
Learn about the importance of not falling behind in a world where being mobile-first and mobile-friendly is increasingly crucial.
---
Day 2 (

Thursday, June 27)

Day 2 will look at thriving in the Amazon age, succeeding with online merchandising, optimizing operations, the power of marketplaces, and strategies for advanced marketers.
Selling a Lifestyle: How Storytelling Motivates Different Customer Types to Buy
Eric Dean, Founder & CEO, Whereoware and Andrew Cullen, Digital Marketing & Communications Director, WaterCraft Group, Yamaha Motor Corp. USA
Learn about proven techniques for segmenting different customer types as well as merchandising approaches to drive sales for all types of customers.
Only at IRCE: Exclusive Internet Retailer Research on Marketplace Leaders, Laggards, and High-Growth Startups
Fareeha Ali, Director of Research Strategy, Internet Retailer | 10:30 AM
Get exclusive data on market leaders and growth strategies to help you get a better understanding of the market and get ahead.
How a Differentiated Business Strategy Drives Success
Jeremy Miller, Founder & CEO, FSAStore.com | 10:30 AM
Learn how one CEO developed unique market positioning with mix of services to make e-retail shopping easier.
Scarcity and the Secondary Market: A Profitable Mix
Hamilton Powell, Founder & CEO, Crown & Caliber | 11:00 AM
Learn how ROI Revolution client Crown & Caliber spotted a market niche and created a business model with security from bigger market players.
How Silver Jeans Propels Online Sales on Amazon and Beyond
Timothy Seward, Author, Ultimate Guide to Amazon Advertising for Brands and Faheem Dayala, Director of Digital Marketing, Silver Jeans Co. | 1:15 PM
Learn from ROI Revolution Founder & CEO Timothy Seward how to capitalize on Amazon's growing advertising share and deal with counterfeiters, gray market sellers, and competition.
The Landmark Tax Decision: What You Need to Know
Scott Peterson, VP of Tax Policy, Avalara and Clayton Cullimore, Director of Global Indirect Tax, Groupon | 1:45 PM
In this panel discussion, learn how the Supreme Court's June 2018 Wayfair decision altered decades-old tax rules for online retailers.
On Time and On Budget: Yes, It's Possible
Marta Dalton, Global Director of Ecommerce, Unilevel and Alicia Phillips, Ecommerce Business Manager, Ghirardelli | 4:15 PM
Learn how to stay on budget and on-time with e-commerce technology projects and receive advice on vetting vendors.
---

---
Post Show (

Friday, June 28)

The final day of IRCE will highlight search tactics, B2B selling, and website design.
Analysis of Exclusive Market Research From Internet Retailer
Don Davis, Editor at Large, Internet Retailer | 8:00 AM
Get exclusive data from Internet Retailer's design report to learn about new design trends, how to use website design to convert browsers to buyers, and more.
PWA or Native App? The Great Debate
Wilson Kerr, VP of Business Development & Sales, Unbound Commerce and Frank Fornarsis, General Manager, ProStockHockey
Get a crash course on the differences, pros, and cons of PWAs vs. apps and how to take maximum advantage of these new conversion-lifting options.
Optimizing for Voice Search
Eric Enge, GM, Perficent Digital and Jordan Silton, Director of SEO Marketing, Apartments.com | 8:30 AM
Learn about the top factors in optimizing voice search rankings and how to improve the chances of your voice search result being chosen on any device.
Mythbusting: Transitioning From B2C to B2B
Jerry Bernhart, Principal, Bernhart Associates and Meeta Kratz, VP, Brady Corporation | 8:45 AM
Learn about the differences between B2C and B2B markets and how to transition from B2C to B2B from a career perspective.
Marketplaces: Amazon Business, Amazon.com, or Other?
Jeff McRitche, VP of Ecommerce & Marketing, Mybinding.com and Joe Caldwell, Ecommerce Manager, SIM Supply | 9:15 AM
Learn how to decide which marketplace opportunities are best for your business and how to get the most out of the ones you choose.
---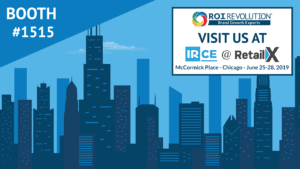 While you're at IRCE 2019, come and meet us at Booth #1515 at the exhibit hall! You'll have a chance to get an in-person competitive analysis of your brand that will uncover:
Overall competitive performance ratings for your keywords
Specific recommendations to accelerate sales
Gaps in your campaign and ad coverage
Don't miss out on your chance to unlock your brand's potential at IRCE 2019!