July 23, 2020: Update
With Google opening up more and more unpaid traffic for merchants to take advantage of over the last few months, we aren't surprised that Google announced on July 23, 2020 that the Buy on Google checkout experience (previously called Shopping Actions or Google Express) is also being shifted to become a free program. The "The Keyword" Google article covers all of the high-level details, but below are some of the biggest takeaways from the exciting update:
Shopping Actions program, previously a commission-based platform determined by merchant's product categories, is moving to a commission-free option

This is starting with a Pilot program, and expanding to other sellers over the coming months

There are requirements and sellers must sign up to join the waitlist

Google will be reaching out directly to eligible sellers to join early

Sellers will be required to link their payment service to the Google Merchant Center

Google will no longer be directly handling customer service, like they were before

Google is providing the option for Google-facilitated returns and merchant-managed returns

Google is partnering with PayPal and Shopify (to start) to help manage orders and inventory management

Commission Rates will no longer be impacted by Retailer Standards starting July 30, 2020
More technical specifications and details can be found in this Merchant Center Help article. This is a big play by Google in an effort to further compete with Amazon's marketplace dominance, especially since they will be allowing standard Amazon product feeds to be mapped into the Merchant Center (which will lower the barrier to entry for those advertisers and sellers who operate only on Amazon and not on Google, yet). This could be a big step for Google in a continually evolving competitive landscape in ecommerce. A completely free, commission-less marketplace could be what some merchants need right now, so this could be a huge opportunity for both large and small sellers.
——————-
ROI Revolution will update this article with more news and announcements as Google makes them – we expect quite a few over the next few months!
In Google's continued effort to evolve and grow their share of the ecommerce landscape, they have begun rolling out their brand new Google Shopping experience.
This new program really began as a test back in 2016 called Purchases on Google. Over time, this program progressed from allowing a small percentage of shoppers to purchase products directly from the Google interface to maintaining an entire marketplace option on Google Express.
This new experience aims to make it even easier for shoppers to effortlessly find and purchase products. Google hopes this expansion of their Shopping Actions program will provide a frictionless shopping experience that rivals Amazon for product search and shopping superiority.

Shopping Actions & Google Express
Currently, Shopping Actions includes three main facets: Google Express (now Google Shopping), Shopping Actions on Search (meaning that specialized Shopping ads lead directly to Express instead of a merchant's site), and Voice Search through Google Assistant and voice-activated Google devices.
Getting opted into Shopping Actions has been a no-brainer for some merchants, but others have had hesitancies. Some of the primary concerns include integrating order management systems with Google, questions about the commission rates and charges, cannibalization of regular Google Shopping ads traffic, and shipping & returns issues.
Google Express (now branded Google Shopping) was the most enticing component of the Shopping Actions program over the past year. This marketplace has allowed logged-in users an opportunity to easily create shopping lists, reorder products, filter for various categories & stores, and benefit from Express-specific promotions.
It has even introduced personalized suggestions to shoppers based on past orders. The new Google Shopping experience is expanding the entire program from primarily a standard marketplace to what Google is referring to as a "distributed commerce plan."
The Google Shopping Experience
Mentioned first at Google Marketing Live 2019 and discussed in more detail here in a blog post by Google's Vice President of Product Management Surojit Chattarjee, Google announced they would reveal a redesigned Shopping experience that was expected to be more immersive and make purchasing even simpler.
This new experience is expected to take what worked best from Shopping Actions and integrate it with Google's already successful platforms on YouTube (coming in 2020), Google Image Search, and especially the Google Shopping Tab. The Google Express app will also be rebranded as the Google Shopping app, and a Google Express look-alike interface now exists at shopping.google.com on all devices.

The new Google Shopping and its integration with Shopping ads and all of Google's platforms aims to make finding and purchasing products easier for shoppers. It also aims to make surfacing those products and offering customers opportunities to find your brand/store simpler for merchants.
The long-term plan for this program is to provide every shopper with a personalized experience that serves them the most relevant items and products based on their interests, search relevancy, and previous purchases.
The Differences
The new Google Shopping is similar to Google Express but differentiates itself in a few minor ways (for now).
First, the interface has evolved – it is still simple, yet it incorporates more product information and relevant material to help shoppers. Menu navigation across the two is simple and easy – options to create Shopping lists and quickly reorder products exist on both. But we feel the biggest difference between Google Express and Google Shopping is the introduction of "buy with Google" versus "other options on the web" comparison options, as shown below.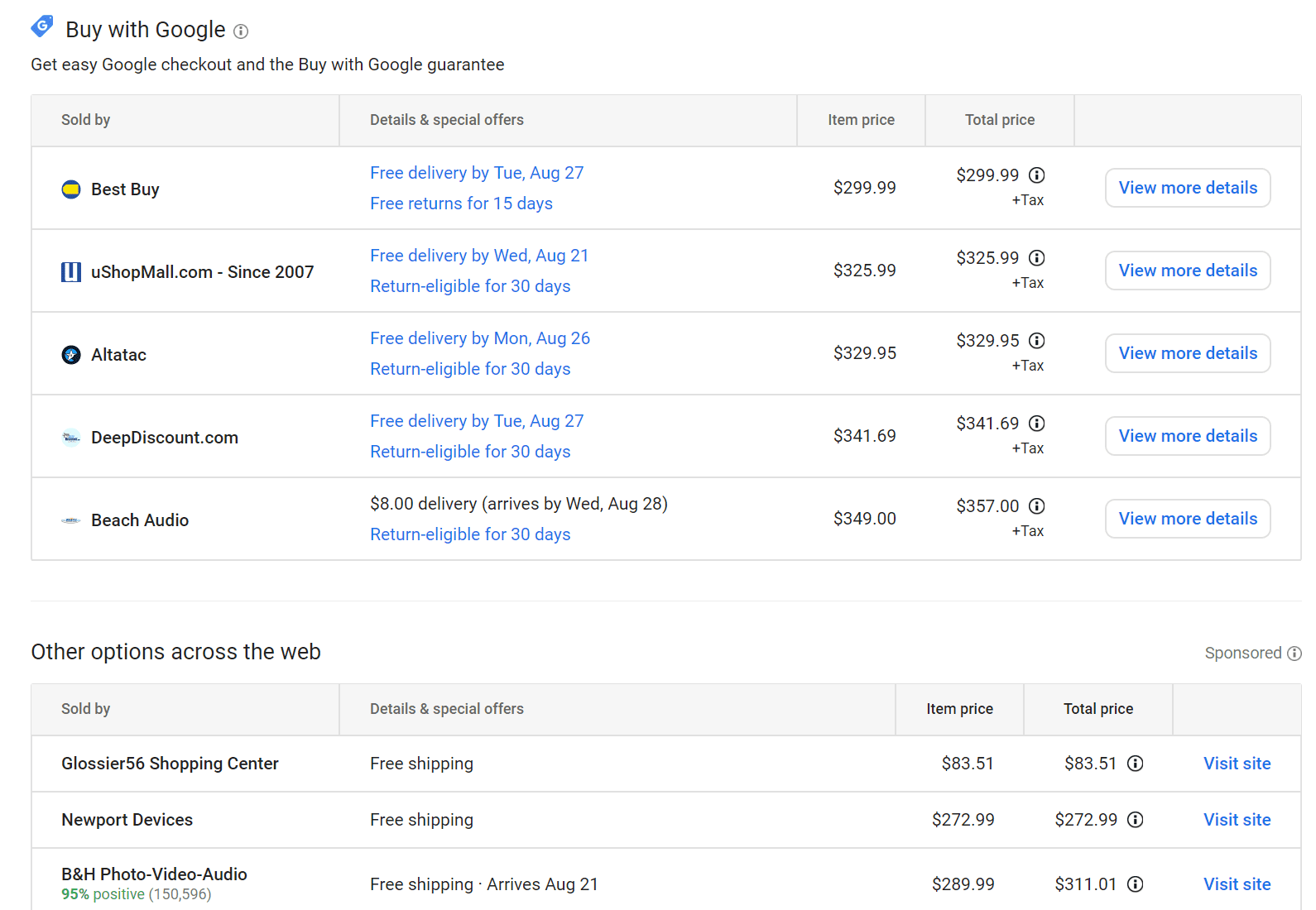 Google Express, in true marketplace fashion, kept shoppers on that interface to purchase. The new Google Shopping offers shoppers more flexibility when selecting where they buy from. This flexibility includes allowing shoppers to see options for purchasing from:
Stores opted into Shopping Actions ("buy with Google")

Stores that offer local pickup in their area

Other stores that would take the shopper away from Google Shopping and to the retailer's site (like a regular cost-per-click Shopping ad)
Like with Google Express, all conversions completed on the new experience will result in a commission charge to the merchant. Commission rates vary by category, so making sure your products are grouped appropriately according to Google's standard values is important.
You can also read more about Google's recent updates on how merchants can lower their commission rates through improved retailer status here and here.
Why Is This Important?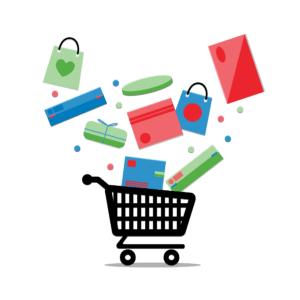 If impression share is a metric that's always on your mind, if you want your brand appear more often in PLAs and show up higher in the listings, if you want to increase your brand's awareness to new shoppers, or if you constantly are vying for Google Shopping spots in hopes to beat out competitors, then these developments should immediately raise a red flag (or a green flag!).
The new Google Shopping experience will undeniably continue to take up more real estate across Google platforms. In less than eight weeks, we have seen shifts in the Google Shopping Tab and Google Shopping that indicate a prioritization of sellers opted into Shopping Actions.
Another factor to keep in mind is that merchants must play their role in offering accurate product information and fast/free shipping options where possible. Google is placing an emphasis on removing the friction from the buying cycle for shoppers, and they want to instill trust in their program through featuring reviews more prominently and holding retailers to higher standards. Google is even rewarding merchants with strong retailer ratings with lower commission rates as an incentive!
To learn more about the specifics of some of the technical sides and policies of the Shopping Actions program, see Google's official Shopping Actions resources guide. To get started, you can fill out the Google for Retail Shopping Action Form here.
Whether shoppers are looking for products, watching related YouTube videos, comparing images, talking to their assistant, or doing basic product research, Google is making it easy to find and purchase products. Why not take advantage of this and grow your share of the market in your industry?
ROI Revolution is a valued Google partner agency serving ecommerce retailers looking to expand their online revenue. We work with clients to optimize their product data for Shopping actions to help maximize the channel's impact. If you want to put your best foot forward in promoting your products through the new Google Shopping experience and benefiting from what it has to offer, reach out to our team today!
And if you want to learn more about Google Shopping, you can check out some of our free resources below:
Sources: