Walmart released its self-service ad platform in early January 2020. Now that the ROI Marketplaces team has had time to test out Walmart Advertising, let's talk about its offerings, best practices, and key differences from Amazon Advertising.
On-Demand Video: Walmart Advertising 101 | With 160 million customers visintg Walmart stores or Walmart.com each week, Walmart is the largest retailer in the US. How can your brand capitalize on the platform that's becoming a dominant competitor in both in-store and online retail? In this webinar replay, discover how you can unlock your brand's potential on this emerging advertising channel.
Watch the video!
Walmart Ad Types and Placements
Like other digital advertising platforms, Walmart released several different placements around Walmart.com for its new ads. It only has one main ad type, however: Sponsored Products.
As mentioned on the WalmartMedia.com Beginner's Guide to Walmart Sponsored Products, Sponsored Products ads are available to brands, Marketplace Sellers, vendors, and agencies. The main requirements for advertised products is that they must be in stock and win the buy box.
Note: Walmart is referring to this section of their product pages as the buy box. Amazon calls this section of their product detail pages the "featured offer," but it is often unofficially called the buy box.
Search In-Grid
Sponsored Products can appear in several places around Walmart.com. First is the search in-grid placement.
This is the typical sponsored placement you might expect to see among organic product results for a customer search. These ads look just like search result product listings, but read "Sponsored product" above the title.
Ads appear on the first page of search results in slots 3, 5, 6, and 12. Unlike other platforms like Google or Amazon, the sponsored products do not appear as the first several search results.
Search In-Grid Sponsored Products placements also appear in the same slots on the browse and category pages for the advertised product.
Key point to remember: No more than two Sponsored Product placements will serve at a time on Walmart's first page of search results. Additionally, in order to advertise a product, it must appear organically within the top 128 search results. If its ranking is below this, it will not be eligible for ads.
[vc_row][vc_column][static-block exodus_static_block_id="18472″][vc_column_text]
Product Carousel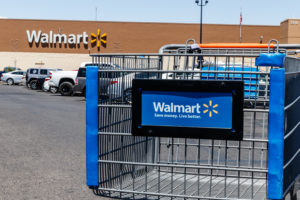 Product Carousel is another Sponsored Products placement on Walmart.com. This placement appears below the search results on category and product pages as its own widget. This carousel is under a heading reading "Sponsored Products" and is scrollable via arrow clicks.
Key point to remember: A maximum of 24 products will appear in a Sponsored Products carousel. Carousel products do not need to appear organically within the first 128 search results to be eligible for this placement.
Buy Box Placement
The final placement currently available for Sponsored Products on Walmart.com is the Buy Box placement. This placement appears under the buy box area on the right side of a Walmart product detail page. Your advertised product will appear on a relevant or complementary product's page and buy box.
Unlike the other placements, this ad is not labeled with the words "Sponsored product." Instead, the word "Advertisement" is displayed in small, gray text in the bottom corner of the product listing. The listing is also bordered with a gray square. These design elements make the Buy Box Sponsored Product placement look more like a display ad than the other placements.
Walmart's Automatic + Manual Campaign Options
Walmart currently offers two ways to advertise your products via their Sponsored Products ads: automatic campaigns and manual campaigns.
As the names suggest, automatic campaigns are driven by Walmart's algorithm and your product is automatically matched to relevant search terms and competitor products. Once you set this campaign up, there's not much upkeep required.
Manual campaigns are more hands-on and require more setup. Here, you enter your own targeted keywords and bids. You can update these campaigns with different keywords and adjust your bids as the campaign runs.
Walmart Advertising vs. Amazon Advertising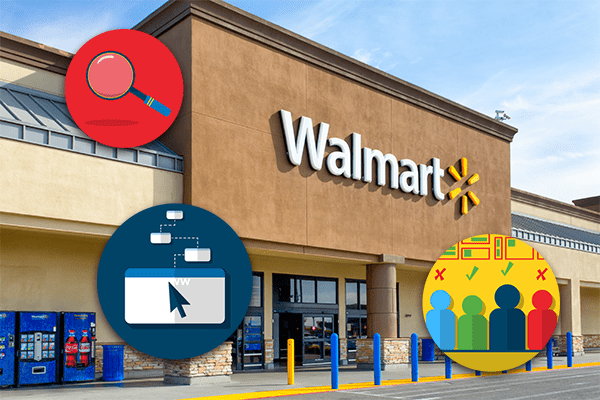 Although Walmart and Amazon both offer similar advertising solutions, there are some key differences to remember.
The first is that Walmart uses a first-price auction system for selecting a winning bid. This means that if you bid $0.30 on a keyword, you'll pay exactly $0.30 for each click. This is different from Amazon, which currently uses a second-price auction.
In the same scenario on Amazon, if your $0.30 bid won the auction, you would only pay one cent above the next highest bidder for a click. If the next highest bidder below you bid $0.25, then you would pay $0.26 for your click.
Walmart has much different budget requirements for campaigns than Amazon. Walmart has a $100.00 daily minimum budget per campaign, while Amazon's minimum is $5.00. Walmart's bid minimums are $0.20 for automatic campaigns and $0.30 for manual. Amazon allows you to bid as low as $0.02.
Walmart offers different Sponsored Product ad placements depending on if your campaign is automatic or manual. We'll dig into this more in our next Walmart Advertising 101 blog post, but this is different from Amazon, as they offer the same placements between auto and manual campaigns.
What ROI Noticed When Advertising on Walmart
Our Marketplaces team has had plenty of time now to test out campaigns for our clients on Walmart.com, and we've found some interesting takeaways.
The first thing we noticed was that only base products are eligible for advertising on Walmart. No variations can be advertised. This means that only the parent or base SKU can be promoted via Sponsored Products ads. This is very different from Amazon, and is key to consider when forming advertising strategy for Walmart.
Stay tuned for the next blog post in our Walmart Advertising 101 series for more key findings, takeaways, and expert tips!
2020 Holiday Retailer's Ecommerce Playbook! Digital holiday sales will grow more than 200% this year. This major ecommerce shift, combined with 2020's longer-than-ever holiday shopping season, has set ecommerce brands up for an unprecedented holiday season. In our 2020 Retailer's Holiday Ecommerce Playbook, you'll discover insider insights from experts at ROI Revolution, Attentive, Pepperjam, + Trustpilot to overcome your brand's biggest Q4 challenges.
Claim your copy today!
[/vc_column_text][/vc_column][/vc_row]