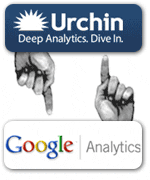 A lot of our Google Analytics clients are Urchin Software users of old. Many of them hopped on the script-based bandwagon when Urchin introduced its UTM method, which combined traditional log-based tracking with a snippet of JavaScript that wrote and parsed cookies for greater accuracy over multiple sessions.
The natural progression was then to Urchin On Demand, which was entirely hosted and exclusively dependant on JavaScript. When UOD was rebranded as Google Analytics, we helped many of these clients migrate over. Because many had purchased Urchin, or had an Urchin installation through their hosting provider, they wished to track their sites on both the new Google Analytics service, as well as via tried-and-true Urchin.
If you're analyzing logfile traffic in Urchin using the "IP + User Agent" tracking method, you're fine. The standard Google Analytics tracking code will integrate seamlessly with your website. If, however, you are using the UTM method, you will need to make a few minor modifications on your site.
I've outlined the procedure below. Simply replace your existing Google Analytics and Urchin tracking codes with the following:

<script src="http://www.google-analytics.com/urchin.js" type="text/javascript">
</script>

<script type="text/javascript">_uacct="UA-12345-1";_userv=2;urchinTracker();</script>

Get rid of the call to the local version of your utm.js file. Just use the urchin.js file on Google's servers, and make sure that the _userv parameter is set to 2. This tells urchinTracker to make nice with Urchin in addition to GA, which makes everyone happy.
Stay tuned, because tomorrow I'll show you how you can track your data across multiple Google Analytics accounts. Make sure you add the ROI Revolution feed to your blog reader of choice so you don't miss any future articles.