As we move through the second half of the year, retailers and manufacturers alike should be preparing to ramp up for back to school shoppers, and quite soon after, the holiday season. But before we dive into those preparations, the August 2019 Edition of the Social Media Water Cooler highlights new features from Instagram, Snapchat, and Facebook:
Instagram 'Explores' More Opportunity for Advertisers
Instagram is slowly rolling out ads into Instagram Explore. These ads will not show up on the main Explore grid, but will only show after a user taps into a post and scrolls down through similar images. Instagram's Director of Business Product Marketing believes this update will "feel natural" because users already come to Explore "in the mindset of discovery."
At first, advertisers will have to opt in to placing their ads in Instagram Explore, too, but eventually that will be the default with the opportunity to opt out. With more than 500,000 users accessing the Explore tab each month, it only made sense for Instagram to monetize this space rather than have brands fighting for organic attention.
Facebook's Libra Cryptocurrency Is Protecting User Privacy 
Facebook announced its cryptocurrency, Libra, will roll out to the public in the first half of 2020. The roll out includes a subsidiary of Facebook called Calibra, a wallet built into WhatsApp, Messenger, and a standalone app to make and receive payments. Calibra will handle the Libra crypto transactions and protect user privacy by keeping Libra payments and Facebook data separate, preventing advertisers from using Libra interactions in ad targeting.
"It's available to anyone with an internet connection and has low fees and costs. And it's secured by cryptography which helps keep your money safe. This is an important part of our vision for a privacy-focused social platform — where you can interact in all the ways you'd want privately, from messaging to secure payments." -Facebook CEO Mark Zuckerberg
Facebook predicts that the success of Libra will benefit their ads business because it will remove some friction from online transactions. They hope that as ecommerce increases, businesses will want to buy more ads.
Snapchat Testing Native Checkout Feature in App
At the beginning of June, five top influencers got a new Shop button on their profiles that allows user to buy their products. Snapchat's decision is seen as a way to keep influencers focused on building their brands on Snapchat rather than other sales channels such as Instagram. This channel is also a much less expensive auction than its counterparts on Facebook and Instagram.
The new checkout feature allows advertisers to attribute direct sales to Snapchat ads and to dynamically remarket products to people who have interacted with their products, but not yet purchased.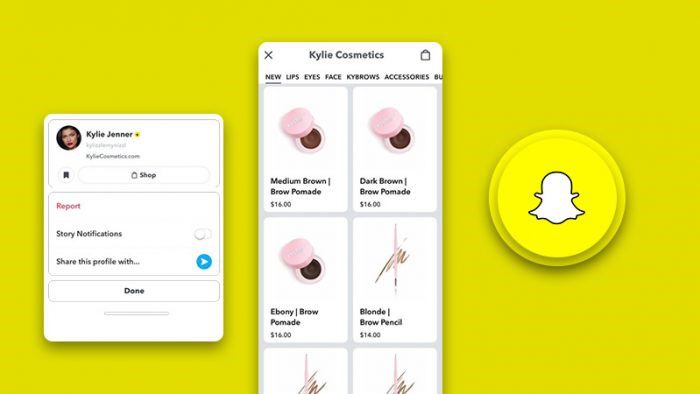 Thanks for joining us for the August 2019 Social Media Water Cooler!
Click here for past editions of the Social Media Water Cooler.